Beauty & Self
Books & Music
Career
Computers
Education
Family
Food & Wine
Health & Fitness
Hobbies & Crafts
Home & Garden
Money
News & Politics
Relationships
Religion & Spirituality
Sports
Travel & Culture
TV & Movies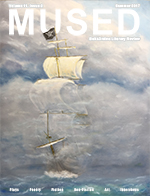 Our time on this Earth is fleeting and precious. We often know that in a vague, intellectual sense, and yet we can find ourselves whittling away those finite minutes without mindful thought. We should celebrate the beauty in a child's smile. The radiant sound of saying "I love you" to that special person. The warm touch of a hand. The delicate scent of a wildflower.

Enjoy the Mused Summer Solstice 2017 Issue



Mixed Veggie and Fruit Slaw Recipe
Sandwiches - Connie Mistler Davidson, Editor

This is a light and tasty slaw that is just full of flavor. If you want a sweet slaw, leave out the optional ingredients. Adding the optional ingredients will give your slaw a sweet and savory flavor. Serve this as a side dish with your sandwich meal or as part of a sausage breakfast sandwich. Yum!




Five For Fun In Seattle
Cruises - Nancy Schretter, Editor

Seattle is a major embarkation port for Alaska cruises. It's also an exciting vacation destination in its own right with much to see and do. If you're leaving on a cruise from Seattle, plan to arrive a few days early and explore. Here are five of the best things to do in Seattle during your stay.




Your Signature Scent, Do you Have One?
Fragrance - Juliette Samuel, Editor

Do you have a favorite blend of essential oils that alter your state/mood and send you on an aromatic journey? What blend of essential oils, when placed on your skin, will have an essence rising from your body smelling like no other? That could be your Signature Scent. Do you have one?




Ethnic Skin Care Naturally
Ethnic Beauty - Juliette Samuel, Editor

There seems to be a growing need for an assortment of products that are relevant to the needs of a multicultural market in skin care. What say you ethnic beauties about what's available for you?




Spanish Vocabulary. The PC and the internet
Spanish Language - Angeles Fernández, Editor

New Spanish vocabulary, this time about the computer and the internet. This article includes three sound recordings.




Wildseed Farms® Fredericksburg Texas
Senior Travel - Hazel M. Freeman, Editor

More from guest author Eve Carr's visit to Fredericksburg, Texas. Fredericksburg offers visitors a wide variety of exciting things to see. For nature lovers, a visit to Wildseed Farms is an absolute must!


| Google+ |
E D I T O R R E C O M M E N D E D
Investing $10K in 2015


Have you received a windfall or inheritance? Confused how to manage it? Many people find the subject of investing to be complex. It doesn´t have to be. You can manage your money yourself.
Fall in Love With Your Feminine Power


This 8-week DailyOm online course incorporates meditation, energy healing, and women´s energetics work to help you heal, empower and awaken your connection to your feminine energy body. It includes print materials, video, and guided audio meditation. No prior meditation or energy work experience necessary. Embrace your full power, health, joy, and spirit!
Visual Link Spanish


Spanish language, interactive lessons. You can try 11 lessons for free. I´ve been recommending this course for several years, as I find it very intuitive.