Beauty & Self
Books & Music
Career
Computers
Education
Family
Food & Wine
Health & Fitness
Hobbies & Crafts
Home & Garden
Money
News & Politics
Relationships
Religion & Spirituality
Sports
Travel & Culture
TV & Movies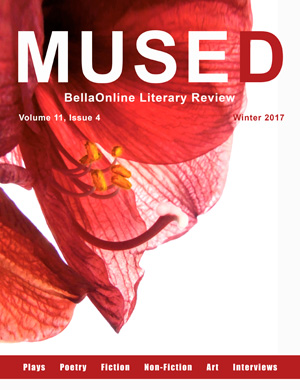 We all travel on this blue-green ball around our very own star each year, sliding a little closer, sliding a bit further away. The balance is critical. Too much closer and we'd roast. Too much further away and we'd freeze.

We should be aware of just how blessed we are that our Earth is "just right" - and do what we can to keep our world healthy. It's the only one we have.

Enjoy the Mused Winter Solstice 2017 Issue



Organizing Tatting Books
Tatting - Georgia Seitz, Editor

Tips on how to organize your tatting books library.




Flight back to Bangalore
Romantic Getaways - Marianne de Nazareth, Editor

Taking a long flight back home can be both exhausting or fun. Upto you to take your pick and hope all connections work.




Stamp Albums Are Special
Stamps - Gary Eggleston, Editor

Stamp collectors have their own specialized albums. And as seasoned and professional philatelists will say, "just make sure you have enough pages in your album to hold a lot of stamps." Some people have been known to keep more stamp albums than photo albums in their attic.




What Makes A Coin Valuable?
Coin Collecting - Gary Eggleston, Editor

There are many "rare" coins for which there is little demand. But overall, rare coins have higher prices. Demand doesn't drive retail price so much as it drives the spread between retail and wholesale.




Tap Into the Power of the No Mind
Stress Management - Debbie Mandel, Editor

The no mind promotes a calm can-do mindset which can deal with stressors or problems as they arise, one at a time, before they build up due to a fearful, wandering imagination. Hereˇ¦s how to tap into its powerful benefits:




Thread Types and Uses
Sewing - Cheryl Ellex, Editor

Thread is thread, right? Practically any continuous spun twisted thin filament can be used as thread when needed. Since thread, of whatever kind, literally holds everything together it is important to try and match the sewing thread to the specific sewing project.


| Google+ |
E D I T O R R E C O M M E N D E D
Turn On Your Inner Light by Debbie Mandel


This entertaining book offers easy to implement stress-management tools for 29 common life situations: techniques, visualizations and a fitness workout to get you off the couch. Take back your power and live more energetically. Don't vent - reinvent!
Jesus of Nazareth


Award winning film produced by Franco Zeffirelli, depicts the life of Jesus Christ from birth to resurrection. Originally made for television in 1977, this set is available on DVD or VHS. It´s been a few years since I last watched this awesome depiction of Christ´s life, but it still remains one of my favorite.
Grave Mercy


Grave Mercy by Robin LaFevers is set in medieval Brittany and features Ismae, a seventeen year-old peasant girl turned assassin who must pose as the mistress of principled knight Duvall in a secretive land of supernatural visions and imminent invasion by the hated French.