Beauty & Self
Books & Music
Career
Computers
Education
Family
Food & Wine
Health & Fitness
Hobbies & Crafts
Home & Garden
Money
News & Politics
Relationships
Religion & Spirituality
Sports
Travel & Culture
TV & Movies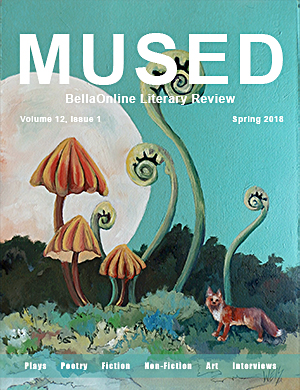 It can seem sometimes as if our world is whirling faster than we can keep up with. It can become overwhelming. Exhausting.

A balm which rejuvenates is to explore the creative efforts of individuals around us. To begin, turn off the noise and clatter of the world at large. Take a deep breath and instead focus on connecting with one fellow human being who presents their jewel of a thought to you. Examine it mindfully. Consider its meaning. Soak in the moment with this one human. Then connect with another. And another.

Enjoy the Mused Spring Equinox 2018 Issue



Canvas Drop Cloth Projects
Sewing - Cheryl Ellex, Editor

The preferred protective covering of painters and remodelers everywhere, relatively inexpensive drop cloth fabric can be seen today in chair and sofa slip covers, table runners, curtains, casual throw pillows, market totes, and even floor coverings.




Double Chocolate Cranberry Walnut Drops Recipe
Desserts - Karen Hancock, Editor

Warm weather means homemade ice cream, and homemade ice cream need good accompaniments like homemade cookies. Drop cookies are quick and easy, and these are decadent.




Speed Organizing
Cleaning - Tammy Judd, Editor

Does pulling open a drawer or opening a closet seem frightening to you, due to the "stuff" you have stuffed in there? If this is you, then you really need an organizing session - speed style.




The Magic of a Library Card
Children's Books - Launa Stout, Editor

Every child should get their own library card as soon as they possibly can. If they can print their own name they need a card and a book bag. PLAN TO GO OFTEN!




How to Create Patterns in Illustrator
Digital Art and Design - Diane Cipollo, Editor

Creating patterns in Illustrator is my version of doodling. It's easy to build a seamless repeating pattern in Illustrator using just about any repeatable motif, from a simple circle to a more complex motif. In this tutorial, we will build a simple pattern of repeating circles in Illustrator.




Are Some Recasts Movie Mistakes?
Movie Mistakes - Isla Grey, Editor

Some of our favorite movie characters have been recast by other actors and actresses through the years. Which recasts were movie mistakes?


| Google+ |
E D I T O R R E C O M M E N D E D
Harvey Penickīs Little Red Book


This isnīt just another one of those instruction books written by a local golf pro. Penick is easily the most insightful instructor the game has seen. Little Red Book is a huge dose of reality about the golf and how to improve your game.
Ordinary People as Monks and Mystics


This non-denominational book is appropriate for any religious path, and helps you to explore your spirituality whether you are more of a mystic or more of a monk. Both approaches are valid.
How to Buy Your Next Car


A true car buying expert explains in detail how to buy your next car. From credit and financing to dealer cost and sales tactics, "How to Buy Your Next Car" is full of insightful information to help you avoid making typical car buying mistakes.